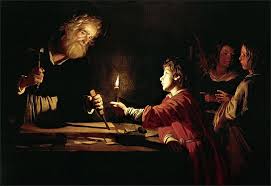 As promised, I have attached below the novena prayer to Saint Joseph, which  the Archbishop of Ottawa, Terence Prendergast, has asked all Catholics in Canada to pray , along with some sacrifice and fasting (a propos already in this latter time of Lent), particularly against the great evil of medically-assisted murder-suicide.  The novena begins today, and ends on the vigil of Saint Josephs' solemnity (the 19th of March).
Saint Joseph was proclaimed the patron of this country at its very origins, by none other than Samuel de Champlain himself, on March 19, 1624, a choice later ratified by Pope Urban VIII.  Although Canada has gone through many trials, and seems to heading for many more, like his guidance of the Holy Family, Saint Joseph will see us through, one way or the other.
It is a curious parallel in providence that the secondary patrons of this country, the Canadian Martyrs, were just beginning their apostolic missionary labours at this time, to be crowned by their glorious deaths in the 1640's.
As Saint Thomas writes (I.q.103.a.6), God has willed that His providence be brought about by the creatures He has created, especially angels and men, as free causes, not because He needs us, but for our own perfection and growth in holiness.
So ite ad Joseph, and may he, Our Lady, his Immaculate Spouse, and all the Martyrs intercede for this land.
Novena to Saint Joseph (requested by the Archbishop;  to be said March 10 – 18)
Glorious St. Joseph, foster-father and protector of Jesus Christ! To you I raise my heart and my hands to implore your powerful intercession. Please obtain for me from the kind Heart of Jesus the help and the graces necessary for my spiritual and temporal welfare. I ask particularly for the grace of a happy death and the special favour I now implore.
[Mention your request here.]
Guardian of the Word Incarnate, I feel animated with confidence that your prayers in my behalf will be graciously heard before the throne of God.
V. O glorious St. Joseph, through the love you bear to Jesus Christ, and for the glory of His Name.
R. Hear my prayers and obtain my petitions. Amen.